What is baobab?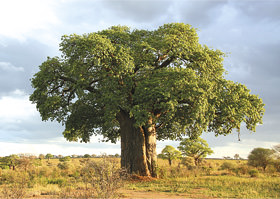 Most people have seen a Baobab or monky bread tree in the media, since it dominates Africa's landscape.
The impressive huge trees can get up to 1000 years old. Every part of the tree, from the roots to its fruit, are used locally as food or medicine. Their fruits are very rich in fibre, vitamins C and B as well as calcium, potassium and iron.
For local economies in West and Central Africa their baobab yield is a very important factor. Harvesting and processing of baobab play a vital role in the economic development of villages and help fight the growing desertification in the area.
Baobab fruit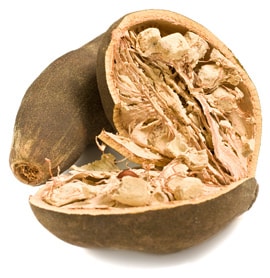 For very good reasons baobab is classified as a
superfruit
! The fruit of the mystical
monkey bread tree
is extremely nutricious and full of vitamins, fibre and minerals. The baobab fruit are egg-shaped, have a hard, wood-like shell and are 10-40 cm Long. Due to high levels of vitamin C the natural fruit powder has
a pleasantly tangy taste
.
The baobab fruit provides:
2x more calcium than milk
6 x more vitamin C than oranges
6 x more potassium than bananas
2 x higher antioxidant levels than açai or goji-berries
and is rich in thiamin and iron.
Watch our movie: The journey of baobab
https://vimeo.com/141876569